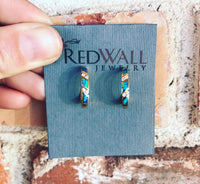 Australian Opal Earrings
Opal has been a part of our store for over 30 years.  Always real, never color enhanced.  Real opal must be mined by hand due to its delicate nature.    Each and every opal is entirely unique.
Follow @redwalljewelry on instagram
Follow us on Instagram to keep up with all of our new pieces and happenings around our beautiful mountain village!